Lilly Beach Swimwear
At the beginning of 2007, Jolidon Group added to its portfolio two well-known Italian lingerie brands: INFIORE and CHIARO DI LUNA, with their take over of Emmeci, one of the most known lingerie producers in Italy.
Following in 2008, Jolidon Group acquired Lilly Italy S.P.A, Emmeci's main competitor thus, enriching Jolidon Group's portfolio by three more brands: LILLY, ECLIZIA and KELITHA.
All three brands have fashion and classic lingerie.
Lilly Beach Swimwear 2010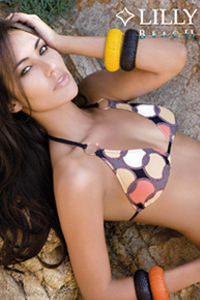 To access this collection you need a password, please
apply here
or request one by email or phone.
Lilly Beach Swimwear 2009