Prelude Lingerie
An independent luxury brand for the "modern princess", with a strong positioning in the deluxe segment. It is made of embroidery, tulle, lace, special accessories (Swarovski crystals). This collection is changes each season spring-summer and fall-winter.
The collection is designed for the most refined and sophisticated tastes in lingerie. To create the line, designers played with a mix of precious accessories and fabrics and enhanced the classical beauty of the articles with stylish details and daring cuts. The individuality of the models is created not only through particularly original cuts, but also by making use of unusual accessories. From classic white-black combinations with gleaming crystals, romantic filigree laces, handmade accessories and elegant drapes, to aggressively cut low-necks and avant-garde lines, each article is itself a finely crafted piece of jewelry.
Prelude Fashion Lingerie Spring-Summer 2010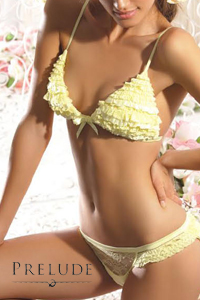 Available for ordering until end of November 2009
To access this collection you need a password, please apply here or request one by email or phone.
Prelude Fashion Lingerie Fall-Winter 2009